This post will be totally random, but I never intended to do a proper oversea studying blog or claimed to continue with what I've been doing so far in the same fashion. The latter, meaning reviews of mystery fiction, will turn up once in a while. I didn't buy these for nothing: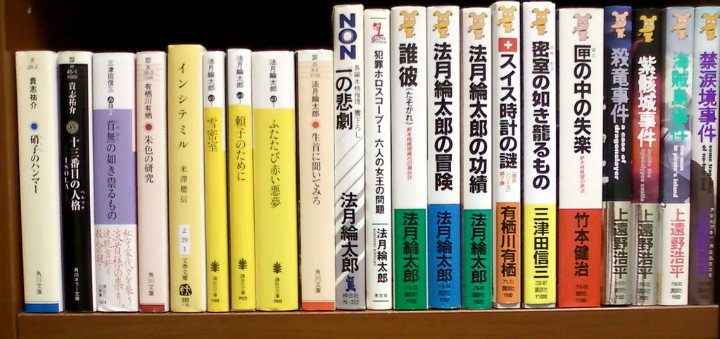 Shitload of Norizuki Rintarou. I don't even know why. His stuff just showed up every time I was searching for something different, but I guess that's how it works in Book-Offs. And apart from one novel in this picture, I didn't pay more than 105 yen! What the picture does not include however are games and manga... Right now, I finally settled for switching between reading 絶園のテンペスト (Zetsuen no Tempest; there's also an anime adaptation currently airing for those interested) and playing ダンガンロンパ. I could have managed to do more otaku- and mystery-related stuff, considering nowadays apparently you only have a few mandatory seminars as a foreign master student, but it only happens in Japan that I get the urge to get out and run around and do stuff instead of just gaming or reading in my room. Actually I'm only writing this because today's the second day in a row where I'm just sitting in my room and devoting time to my hobbies apart from getting something to eat. Which brings us to...
Food! What would I do without tabelog? I'm eating fabulous ramen almost every day, so I might actually make a recommendation post for "food tourists" later, but right now: 太閤園 (Taikouen) in 稲毛 (Inage) where my dorm is also located. Basically a 中華料理定食 (Chinese food set meal) restaurant, but it serves all kind of stuff. To the right we see a variation of garlic I didn't see or taste before and it's just awesome. Yes, it's that green stuff. It's totally crisp and fresh and kind of different from the usual garlic taste, but the slightly spicy sauce makes up for the latter ;) The chicken is also amazingly tender and there's also mushrooms and carrots. Not in this photo, but this place's gyoza are fantastic as well. They must be the most self-made ones I've ever experienced so far.
I'll just stop the randomness here and write proper reviews whenever I finish a book or game. Or "report" on any kind of interesting event. I have to take along my camera more often. Mobiles just don't do it.