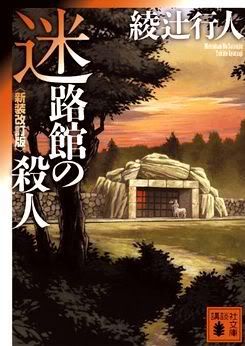 Prominent mystery writer
Miyagaki
Youtarou
invites his 4 disciples, a literary critic, an editor and his wife and mystery maniac
Shimada
Kiyoshi
to his underground labyrinth mansion. However he is found dead when they arrive and a tape tells his disciples of his wish to improve their skills under the condition of being locked into this closed circle situation and write themselves into their works using his mansion as location. Their works are to be evaluated by the critic and the editor and the winner is going to inherit
Miyagaki's
entire fortune. The authors begin to write their individual stories and it does not take long until murders happen according to those scripts.
This incident became fairly known afterwards and one year later a literary reconstruction published by
Kitansha
Novels arrives at
Shimada's
. It was written under the pen name
Shishiya
Kadomi
, who claims to have been involved in the case, which
Shimada
acknowledges before he delves into the book...