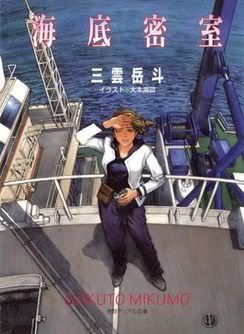 Science magazine journalist
Sumisaki
Yutori
visits the deep-sea experiment facility 'Bubble' for her research. She learns about the death of one of the facility's permanently based inhabitants which was handled as suicide due to a certain locked room circumstance. However during
Yutori's
stay the mysterious fatalities continue and it becomes questionable if these events can still be seen as suicides or accidents...

First of all I found it pretty curious that Mikumo Gakuto, the author of light novels like

Asura

Kurain

, wrote this novel which was labeled as

orthodox SF-mystery

. This fact was already enough to make this book worth trying in an inquisitive, risky way for me. And I have to admit I was kind of startled again about Japanese authors and their peculiar versatility...

This really was exactly what it was labeled as. Which can make this into a rather two-sided reading experience for readers like me who on the one hand like SF-settings and stories but on the other hand totally fail in terms of physics- and chemistry-related knowledge and understanding. While the phenomena and processes described are definitely fairly common ones the reader is doomed to most likely be unable to get to a solution for himself if he is unversed in those fields. However apart from the location being a facility built on the seabed everything is explained fairly realistic and elaborate. The elaborateness can be quite exhausting for unversed readers like me but surprisingly every single detail becomes a piece of the puzzle eventually so I will not point this out as a point of criticism.

After all there are also other themes and topics found in the dialogues and story of this novel. Matching with the location being a modern version of the isolated island setting the book delves into the themes of solitude and interpersonal relationships. In fact what the characters were talking about concerning these themes in the course of the novel also connects to the solution of the whole case and the finale of the plot. I do not know if this is worth pointing out and perhaps this is not uncommon for SF-mystery but I was quite surprised and pleased by this.

So, the locked room cases are explained in a satisfying way, if the characters are not elaborating on scientific explanations on how the facility works they also talk about the philosophic side of technology and as already pointed out rather psychological themes and everything leads to a neat finale that made me appreciate this kind of difficult read in the end. There is one thing I would like to point out though. The plot is narrated by an AI device that

Yutori

carries around, which is the first one ever in the whole world... It is a reconstruction of someone

Yutori

was acquainted with who seems to have vanished into thin air before said unit was sent to

Yutori

. I found the idea of narration and

Yutori

as a character to be quite interesting and while she is definitely being developed in this novel anything concerning her past never exceeds hinting. Which I found quite regrettable due to the aforementioned factors and some other aspects told in the course of the plot. This could have been carried out in a more efficient and interesting way but instead of elaborating on

Yutori

and the AI unit the author just kept on elaborating on the setting for a large part of the book which was important for the solution and the finale so I guess anything else would have just went beyond the scope of the novel. Sadly though due to this fact

Yutori

seems more like the main character/detective of a novel series where publication was just brought to a halt after the first volume...

All in all I would say this actually was located right in the middle between SF and Mystery so I can recommend this to anyone interested in both genres but more leaning towards the latter mentioned since even taking into account all the scientific 'blabber' this is a fairly orthodox Mystery novel. Just because it is difficult for some to come to a solution this does not change the fact that all necessary hints were provided and everything leaded to one conclusion. Even if you had no clue I am quite sure this novel is still enjoyable just by seeing how well the case and plot are constructed and how the pieces fit into the frame eventually.

Apart from his explicit light novel-ish works he apparently wrote other Mystery novels (even if those seem to be more or less short story collections) like this or this one, so I will have to check out more from Mikumo someday...