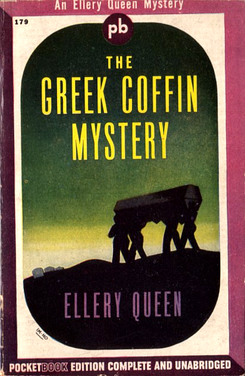 After the famous art dealer Georg Khalkis dies caused by illness, his will turns out to be stolen. When the police, including Inspector Richard Queen and his son Ellery, arrive at the scene, Ellery suggests the will could only be found in Khalkis' coffin. However what turns out to be there is not the will but another corpse - and an obvious murder at that!
I was kind of surprised how unspoiled I managed to read this classic (I would not count the existence of several false and one correct solution as a spoiler since there's no way a solution stated before the challenge to the reader would be the definite one...). That said, the first solution was obviously wrong for me immediately anyway due to one clue, aspect, device or whatever I should call it I've encountered

so

often in Japanese mystery fiction that it just made me too cautious concerning that by now.

Apart from that though, this definitely deserves its status as one of the most important and simply awesome classics of the genre. I totally fell for one of the later false solutions and the actual culprit was indeed totally unexpected for me even though it was absolutely logical and deducible how Ellery's brilliant recital in the denouement proved. There are, typically for those old novels, some minor aspects that might make some clues a tad harder to catch and/or interpret but I don't think this unevitable factor makes the mystery unsolvable for readers who did not live at the time when this book was published.

If there was something I could remark, there would be two things:
1) There are one or two instances where a character suddenly remembers something or revokes established circumstances which felt a bit too convenient and almost random but any author has to construct and advance in his plot

somehow

.
2) The culprit, surprising as he was, almost felt a bit

too

unexpected since the motive still isn't anything satisfying, unique or memorable for me knowing the whole story. It's fair and guessable and convincing and all, it just didn't fit my personal taste, which might be a little bit too influenced by (especially contemporary) Japanese writers and their extended focus on characterization.

These are only minor nitpickings though as the complex yet entertaining plot and its mystery were totally engaging and made me love my first novel by Ellery Queen. I'm certainly inclined to try out others and I'll probably continue with

The Siamese Twin Mystery

and/or

The Chinese Orange Mystery

so I'd have three of the most popular/distinct Queens off my list.