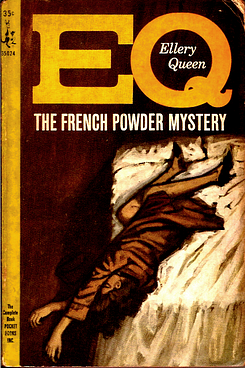 French's Department Store on Fifth Avenue is
the
place for modern living and exhibits fancy furniture every day in a special show window at noon, which became an event on the street. One day when the demonstrator pushes a button to unfold a bed from the wall, a corpse slides from the sheets! Inspector Queen and his son Ellery arrive at the scene and eventually conclude that the murderer must be an employee or otherwise affiliated person of the store and so Ellery sets out to narrow down the only possible culprit.
A higly recommended classic both in terms of Queen-ish workmanship and orthodox detective fiction in general. The setting of a well-attended department store and the public display of the corpse certainly is different from the more or less typical country house mystery and I guess it was one of Queen's distinctive features in the GAD. I would have never thought this could work out for me so well. Again Ellery deduces a lot from rather inconspicious aspects and the plot logically unfolds at a steady pace.
Out of the Queens I'v read so far, this one is almost on par with
The Greek Coffin Mystery
in terms of complex plotting and logical deductions, but they differ significantly in one certain way: While
Greek
does feature a lot of deductions over the course of the novel with Ellery stating his thoughts throughout, it does so because there are multiple false solutions which are used to arrive at the only true version the crime was committed. In
French
however, Ellery simply states part of the deductions which lead to the definite solution at early stages of the novel.
While in contrast to others, who seem to think this makes the novel lose steam later on, I actually think it made the reading itself more entertaining, but I do have to admit that the Challenge To The Reader turned out a bit easier due to this. There are several points mentioned earlier in the novel that are only fully attended to during the denouement and these are exactly the clues you still have to think about and use for your own deductions or otherwise you won't get to the solution, even including all of Ellery's statements prior to the Challenge. It's a bit of a mixed bag, but I was fine with it and I don't really see why it should ruin the novel for anyone else either.
I also read about readers criticizing that the way Ellery narrowed the culprit down to the employees, business partners and family members was not totally logical in their view and whether there really could not be any other possible murderer. However I don't see why there should be a problem with Ellery's deduction even if the setting isn't a perfect closed circle, e.g. due to a natural phenomenon like typhoons, landslides or floodings. Nobody else could have the required knowledge and means to commit the crime that way and nobody else would have a reason to shove the corpse into that bed...
Next up:
The Egyptian Cross Mystery
or I will wait for
The Dutch Shoe Mystery
and read both chronologically. Or another novel by one of those Japanese Queen-fanboys... Several Arisugawas waiting to be read are staring at me, but I still don't own anything by Norizuki Rintarou expect his debut novel 密閉教室, which does not even feature his Queen-ish detective figure. And I'm beginning to run out of Maya Yutaka material...